World of Thanks, a special Thanksgiving podcast episode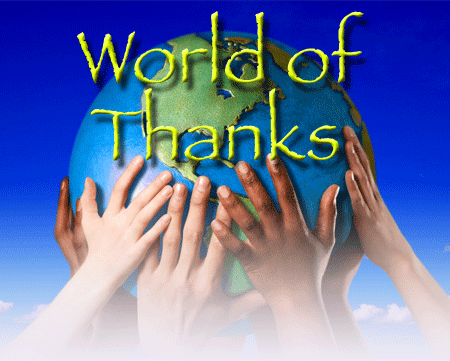 Thanksgiving is, indeed, one of my favorite holidays
. Though celebrated this week in the States, many other countries have a similar holiday with essentially the same purpose: give us a chance to reflect on what we're thankful for.
The
People and Projects Podcast
is all about helping you to deliver projects and lead teams. So, it's worth asking: how important is being thankful to helping you lead and deliver?
It's critical.
In fact, let's test that out for a second....
Think back through bosses you've worked for in the past
. Or consider teachers you've had over the years, and perhaps even your parents. Out of that list, who jumps out as someone who was stingy, so to speak, with their gratitude towards you? Whether in word or action, they just didn't dish out appreciation very often.
Can you think of someone?
Many people can. What consequences come to mind that resulted from that lack of gratitude?
Some two years ago I was talking with a CEO about how I like to send Thank You cards to people. He actively tried to convince me that such expressions of gratitude--especially in writing--were a waste of time, much like "holding hands and singing." He said, "People don't need a boss telling them 'Thank You'. Rather, results speak for themselves."
Wow. I can only imagine what he's like to work for!
Go back to your list
. Get that ogre out of your mind and replace them with someone who did a great job of making you feel appreciated. Once again, whether in word or deed or both, they oozed with gratitude.
What difference did they make? In my experience, those leaders are able to accomplish so much more
. Their teams are more engaged. They can be more innovative because they are working less out of fear and more out of self-motivation. Expressing gratitude and recognizing others for the work they do is a clear mandate for anyone who desires to deliver projects and lead teams.
Maybe it's the economy... Maybe it's the growing discontent among many that our political leaders are out of touch. There's no shortage of things to be upset about.
So here's what I've found. Being thankful is a choice.
It's something we need to proactively pursue to avoid being sucked into the whirlpool of negativity and entitlement that surrounds us.
In recent years my company has sponsored a gratitude project called the
World of Thanks
initiative. Each year people from around the world write in to answer a very simple question: "What are you thankful for?"
Though the answers vary widely, I always get great feedback from people about how they find it refreshing to take a moment to participate in the project as well as read the results from young and old alike.
As many of you know, this year we opened it up for people to call in with their message so we could include their thoughts in this podcast
. For all that called in or just replied to the invitations with messages on LinkedIn, Facebook, or e-mail, thank you for participating.
And now, it is my pleasure to share with you the voices of your fellow podcast listeners as they answer the question, "What are you thankful for?" Have a very Happy Thanksgiving!
World of Thanks, a special Thanksgiving podcast episode
Labels: appreciation, employee engagement, leadership, motivation, thankfulness, World of Thanks
posted by Andy at 2:30 PM