How to Know What You Don't Know, an interview with author Michael Roberto
I hear it all the time when people describe themselves in a work setting: "I'm a good problem-solver!"
Are you a good problem-solver? I'm guessing you would say "Yes!"
Well, guess what?
According to Michael Roberto, author of
Know What You Don't Know
, maybe we're all focusing on the wrong thing. According to Michael, it's not about becoming better
problem-solvers
. We need to be better
problem finders
!
I had the opportunity to catch up with Michael by phone recently and look forward to sharing that discussion with you in this cast.
To learn more about Michael, I invite you to check out his blog
at
http://michael-roberto.blogspot.com/
. Also, don't miss Michael's other highly recommended book,
Why Great Leaders Don't Take Yes for an Answer: Managing for Conflict and Consensus
.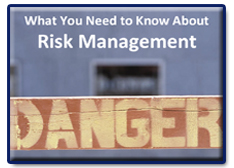 One way that project managers become better problem finders is through risk management.
Have you ever been trained on how to more effectively manage risks?
I have an e-learning module entitled
What You Need to Know About Risk Management
. You can learn how to use risk management to become a better problem finder and earn two PDUs while you're at it.
And as a thanks for listening to
The People and Projects Podcast
, you can save $20 off the $49.95 list price. Just use a coupon code of
PODCAST1009
when you order. Go to
http://www.i-leadonline.com/eRiskMgtWorkshop.asp
to learn more.
Before we wrap-up, may I ask you a favor?
I invite you to tell a friend or colleague about
The People and Projects Podcast
. I continue to be amazed at how many people still haven't started using podcasts as part of the professional development strategy. Send them a link or tell them how to
find us on iTunes
. Thank you very much!
Thanks for joining us for this episode. Enjoy the cast!
How to Know What You Don't Know, with author Michael Roberto
Labels: leadership, managing change, project management, risk management
posted by Andy at 5:00 PM