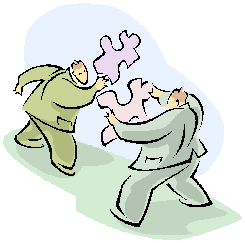 When you boil it all down, training is really a change management issue. It's about helping people change so they can improve their performance in the real world.
Part of our unique process is to provide professional one-on-one and group coaching. By combining coaching with our world class training, we are better able to help put the pieces together to make sure your organization reaps the real world performance improvements you're after.
Coaching engagements are customized to your unique needs, ranging from weekly phone consultations to face-to-face coaching sessions on an agreed upon frequency. The focus of the coaching practice is to intensively work with the topics discussed in the presentations in order to more fully implement them in an individual's life or workplace.
The term of each coaching engagement varies, depending on your particular needs. However, our bias is toward short-term coaching engagements, teaching you how to fish, so to speak, rather than doing the fishing for you.
Here are some examples of coaching clients:
---
Situation: An organization wants to grow its supervisors and managers. How do they do that?
Solution: A group of managers complete the CPI 260™ leadership assessment, one of today's most popular leadership development and management training tools. Its 260 carefully selected items measure more than two dozen scales in five areas and suggest targets for further development. In addition, participants may also complete a Thomas-Kilmann Conflict Mode Instrument. We walk through results with each participant in a one-on-one coaching session. Though individual results are kept confidential, we provide management with a summary of where the organization is strongest and in most need of development. Customized development strategies are then developed.
---
Situation: Results from an employee survey show problems with trust between top management and lower levels in the organization. The senior leadership team also has issues with trust amongst themselves. How can they fix the dysfunction?
Solution: Each of the senior leaders take the CPI 260 leadership assessment. We walk through the results one-on-one. In addition, we interview them on a set of customized questions to get to core issues. We also interview the next two levels of leadership on a similar set of questions. A set of recommendations are presented back to the senior leadership team, including frank discussions about how to turn the situation around. An action plan is agreed to and significant improvement is being realized.
---
Situation: A top level executive who wanted someone outside his organization to help him stay on track with key personal and career goals.
Solution: A 4 month coaching engagement where we organized a goal setting and tracking framework that would be self-sustaining. Met on a regular basis as a form of accountability to make sure he stayed on track.
---
Situation: A senior executive team desires to grow their teamwork and leadership skills but they don't want to do it through training classes.
Solution: A quarterly group coaching session where a facilitator guides an engaging discussion of a selected topic. The sessions have increased rapport among the leaders while providing insight to improve their leadership skills.
---
Situation: An executive desires to see her project managers truly improve their ability to deliver projects.
Solution: After project management training, we set up a mentoring program for selected project managers. The mentoring focuses on applying the learning in the real world of projects in flight, allowing for real-time problem resolution and overall increase in project delivery reliability. Coaching term varies for each project manager, depending on how quickly each becomes self-sufficient.
---
We fundamentally believe that leadership only develops over time, and is best learned when modeled for others to see. In a world where getting a focused mentor can be challenging, engaging a coach from the Institute is a great way to truly jumpstart the personal and professional growth that you may be desiring. Please take the next step of contacting us to find out more about how we can help you get the results you need.