Lipstick on a pig. We've seen it with sales forecasts. Annual goals. Marketing strategies. Project plans. No matter how thick you try to cover it, reality has this annoying way of winning.
This session will help you and your participants understand how to tap into that reality to help you develop better plans and deliver more reliably.
---


Daugherty brought Andy in to present a keynote to our mutual customers and prospects on a gloomy Fall day at the race track. Andy's energy and enthusiasm brought a ray of sunshine into the tent, and partnering with him was the best bet of the day! The event was a huge success, and we plan on working closely with Andy in the future.
Peter Morris, SVP Sales, Daugherty Business Solutions.
---
Who Benefits from this Keynote?

Whether you're organizing an event for managers, senior executives, project managers, product managers, salespeople, or individual contributors throughout the business, this interactive keynote session provides practical tips you can immediately apply in your real world projects (even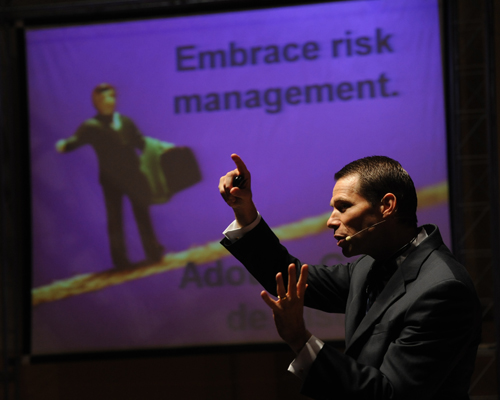 those that are real porkers)!

What Your Participants Will Learn from this Keynote:
Practical ways to recognize illusions and their dangers

Why illusions inevitably lead to project crisis

Practical strategies to overcome illusions

How to develop a reality-aware organization

Key illusions that impact project and personal success
---
Let's Start Planning Your Event!
Want to improve your organization's ability to recognize issues before they turn into a crisis? Want to bring in a speaker who will inspire, challenge, and entertain your group?
Fill out the information below to let us know about your event. We will work with you to tailor a keynote presentation specifically for your needs.
---