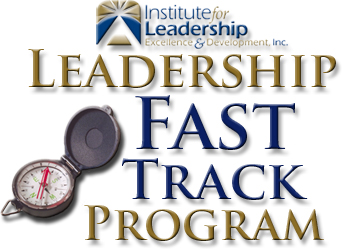 Next course: The next Leadership Fast Track Program will be starting in the second quarter of 2015. Your initial one-on-one coaching session will be held prior to the first group meeting. Every 3-4 weeks, for eight sessions, you'll join other Leadership Fast Track Program participants on a 1˝ to 2 hour web conference.
---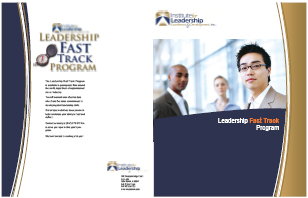 Click here to download a program brochure!

Listen to Andy provide an overview of the program.
---
Hello! My name is Andy Kaufman, President of the Institute for Leadership Excellence & Development Inc. I have the privilege of working with organizations around the world who are struggling with how to deliver projects and lead teams.
The Leadership Fast Track Program is based on our work with tens of thousands of people from hundreds of organizations.
Accelerating Your Ability to Lead and Deliver
Who do you know that:
Is a high-performing manager who the organization wants to continue to pour into?
Knows the business or technical aspects of their job but could use some help developing their people skills?
Is not currently in a management role but is seen as a future leader?
If one of more of those apply to you or someone you know, keep reading! Our

Leadership Fast Track Program is designed for you!

The Leadership Fast Track Program is designed for business professionals who want to accelerate their ability to lead their teams, influence others, and deliver results. We will turbo charge your ability to lead with confidence, take focused action, and achieve the results you desire.

We combine insightful assessments, practical learning sessions, and one-on-one executive coaching to help you take the next step up in your ability to lead and deliver. Contact Andy Kaufman, PMP at (847) 579-9174 to learn how you can participate in this year's program.
Leadership Fast Track Program Workshops
Our learning sessions are live, but held over the web. The idea is to minimize the amount of time you spend away from the office while maximizing the practical learning. It also makes the program available to you wherever you live.
Not able to attend a session? No problem! They're recorded for later viewing.
The workshops included in this year's program are:
The Essentials of Leadership
Developing Relationships
Developing Your Influence
Managing Your Time & Commitments
Dealing with Conflict
Developing Your Team
Developing Leaders
Program Wrap-Up
What are the Benefits?
When was the last time you got an honest, objective look at your leadership strengths and opportunities to grow? The truth is it can be difficult to get objective, actionable feedback. You'll get it in this program. It includes a confidential leadership assessment using a globally recognized instrument. Plus you get a one-on-one coaching session with me before the program begins to make sure we stay focused on your needs, and one at the end to make sure you put the learning into action.
Let's face it.... Rarely does it seem like we have time to invest in ourselves. But this program doesn't make you travel to a workshop location and sit through long training sessions. We do it all over the web through live, interactive sessions every 3-4 weeks that I facilitate. You get the learning without the days (or should I say "daze") of training. You can be anywhere in the world and participate without missing days of work.
A recent leadership program participant thanked me for helping him to achieve a goal he had been procrastinating on for years. Not only did he have the satisfaction of actually achieving it... He was now being offered a more challenging opportunity that will pay more money because of it. "Thanks for pushing that with me...." was his message.
How Much Does it Cost?
The investment to participate in the Leadership Fast Track Program is $2,499. Early-bird registration (before May 31, 2015) receive a $250 discount. Discounts are also available for multiple participants from the same organization.
The program fee includes all the assessments, learning sessions, and two one-on-one coaching sessions. Additional coaching sessions can be added for a fee.
Early Bird Extras
In addition to the discounted rate, if you sign-up by May 31, you'll receive:
A free license to our Dirty Little Secret of Business e-learning (worth $97)
A free annual Premium Subscription to The People and Projects Podcast (worth $97)
A free coaching session six months after the program ends (worth $300), and
$1,000 off the cost of an in-house workshop (e.g. Essentials of Project Management delivered on-site at your organization) or keynote.
Next Steps
It would truly be our pleasure to help accelerate your ability to lead people and deliver projects. Thank you for exploring the Leadership Fast Track Program! Contact Andy Kaufman at (847) 579-9174 to learn more about the program. Or use the form below to join the program! We look forward to working with you!