Sometimes the best way to learn is to do with it a laugh! The Water Cooler series of comic strips is designed to do just that--reinforce learning with a smile. (Click here to see our Archives)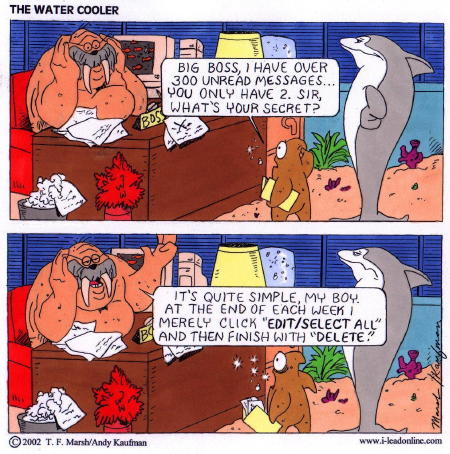 The Water Cooler is a collaborative effort between myself and a wonderfully talented illustrator, T.F. Marsh. Todd has been a freelance artist since 1984, writing, developing, and illustrating products for adults and children of all ages. Through the years, he has been involved with projects for such licensed companies as Disney, Warner Bros., Paramont, BBC, Enesco, Solo, and Nabisco. He has also illustrated his own line of Greeting Cards as well as authored and illustrated the children's Bible picture book series "The Tale Tellers." Click this link to learn more about the artwork of freelance illustrator, T.F. Marsh.
If you ever need a top quality illustrator, I highly and wholeheartedly recommend you contact him. His e-mail address is [email protected].
If you would like to use one of The Water Cooler strips in any of your materials, just contact me at 847.550.0974.
Click here to let us know what you think about the series!