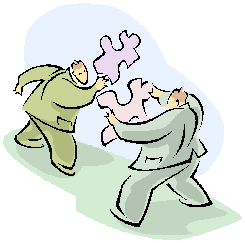 The Thomas-Kilmann Conflict Mode Instrument (TKI) is the world's best-selling instrument for understanding how different conflict-handling styles affect personal and group dynamics and for learning how to select the most appropriate style for a given situation. The TKI assessment is a key tool for managers, team leaders, and human resource experts to safely open a productive dialogue about conflict.
If you are currently part of a leadership development program and were directed to this page, please jump directly to the Taking the TKI section.
Are you a hospital looking to use the TKI as part of your strategy to address the Joint Commission's Leadership Development Standard LD.2.40? Check out our site dedicated to managing conflict in healthcare.
Paying for the TKI Assessment
If you are not currently part of one of our leadership development programs but are interested in learning more about how you and/or your organization could benefit from it, click here.
You can pay for the assessment before you take it or afterwards. Click here to learn more about the payment options.
Taking the TKI

To make the assessment process as convenient as possible, you will take it online. If you are part of a leadership workshop or coaching program, you need to complete the assessment at least 2 days prior to your scheduled session.
Please answer the questions as objectively as possible so the results are an accurate reflection of who you are.
Here are the steps to take the assessment:
If you are part of a program your results will be forwarded to your coach who will walk through them with you during your workshop or coaching session.
If you are not part of a program, we will contact you when the results are ready. We will get the results to you after you select which payment option works best for your needs.
If you have any questions, please donít hesitate to call us toll-free at 866-884-5323.