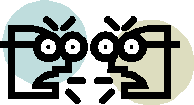 It's show time. How will she respond?

Crash! She blew it.

She leaned back and said to the order taker, "Hey, (name). He doesn't like your service." The look on her face did not show a sense of urgency. The look on the order taker's face showed lack of concern. The look on the customer's face was decidedly even more perturbed.

The manager glanced at the employee, "You need to apologize." The employee mumbled something like, "Ah, I am sorry? For whatever?"

It could be the lamest apology I'd heard since my kids were 3 years old. The customer left, disgusted, even throwing the wrapper of a straw at the employee, who was smirking.

In front of us all, the gruff looking manager walked over and put her finger in the employee's face, "One more complaint and I'm cutting your hours!"

The employee clearly wasn't getting it. "I don't understand what I did wrong."

The manager exclaimed, "It's your attitude! One more complaint and I'm cutting your hours!" Then she walked away, complaining out loud about the attitudes around the place….while I stood, watched, and wondered, "Is this where I want to eat dinner?"

Another customer service wreck.

The story is only half over. For practical lessons learned from this incident to help us all get beyond junk food leadership, check out the May 25, 2005 entry in our Leadership in the Real World blog.

Great performance starts with excellent leadership. Look for opportunities to lead today, to turn performance pile-ups into opportunities to improve.