Great information, great instructor. Easy to follow & start using right away.
Holly, McDonald's


Kept my interest the whole time (not an easy task)!
Cori, Motorola


The project management portion enlightened me by providing information to get a better handle on projects.
Debra, Blue Cross/Blue Shield of Illinois
Most people donít appreciate how challenging an administrative assistantís job is. This training session addresses some key aspects to those challenges in a fun, interesting, and informative way.

Click here for a downloadable summary of the workshop.
Training for Administrative Assistants
Influencing Skills
One of the major challenges of an assistantís job is that they have to influence others (their boss, others in their department, etc.) yet they donít typically have the authority to make others do things. A key part of managing their boss (and others) is therefore developing their influence skills. This module includes an assessment and de-brief of a well respected model for understanding others. There is specific focus in applying the model to their job (keeping it out of the realm of theory). The discussion is fun, informative, and extremely practical.


I enjoyed the workshop and felt the "Amiable" style fit me to a "T" - I learned a lot about myself.
Corlette, Pennsylvania Hospital


...able to apply at work and home!
Judy, Angus Chemical Company
5 Step Model for Getting Things Done


Excellent pointers on project management for assistants.
Janice, CNA
Assistants need to be great jugglers! This module introduces a 5 Step Model for Getting Things Doneógiving them a practical framework for staying on track with all the demands that come their way. An easy-to-use, customizable Project Planning template is made available to participants to help them more effectively plan and organize their projects. In a sense, this module is "Project Management for Administrative Assistants", delivered in a way that is immediately actionable with the challenging demands faced by administrative assistants.


I used the project plan to complete a major task due yesterday. My boss was impressed! I am applying the lessons learned.
Ruth, Exelon Corporation


I've already used the Project Planning template for a retreat I'm scheduling later this month. It works great because all of my information is in one document and when anyone asks where we stand with things, I can just send them a copy of the plan via e-mail. JoAnn
How to Get More Done with Less Stress
Too much to do? Too little time to do it? Welcome to the job of an administrative assistant in the real world. This fast-paced module is grounded in practical, real world concepts and techniques to help your assistants stay on top of all their demands while reducing stress.


Not just another Time Management/'How to' course. You actually gave relevant examples and ways to become more efficient. One of the only courses I've taken that I'll actually use the information. Thanks! Erin, DOW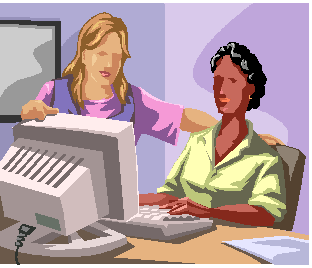 Action-Packed (and Actionable!) Day
Let's face it... Taking a group of admins away from their work for a day is no small deal! It better be worth it, and our growing list of satisfied participants will emphatically tell you: It is!
A class size of 7 to 20 is ideal (though for a special event we can accommodate many more. Call us for details on how to use this as a special event for training your administrative assistant staff). It is an action-packed day full of ideas your assistants can start using right away!


It was relevant to me and my position. I was engaged 100% of the time! Eileen, McDonald's
How about a Keynote for your Association or Group?
Do you have an upcoming conference, association, or group meeting that needs a keynote speaker? In addition to training your administrative assistants in a workshop setting, we provide 40 minute to 90 minute keynotes that can be a real highlight to your event. Contact us for details.
Part of an Overall Curriculum for Your Administrative Team
This workshop can be customized to include additional topics relevant to your staff. It can be an effective part of a curriculum for training the administrative assistants in your organization, including one or more of our other offerings such as:
Customize the Session Title to Fit Your Culture
Do you have a different title for your assistant role? Some organizations customize the title to target a specific group of their administrative team, calling it The Effective Executive Assistant. We are happy to customize the session to fit within your organization's culture. Give us a call to discuss.
Tools to "Live the Learning"
The Institute's mission is to facilitate training that helps your administrative assistants on the job, right away. This session uses our innovative Gold Sheets and 2 Minute Boosters, all with the purpose of helping your admins live the learning.

Click here for a downloadable summary of the workshop.
Give us a call or send an e-mail to learn more about how the Institute can be key part in training your administrative assistants!